KYBELLA®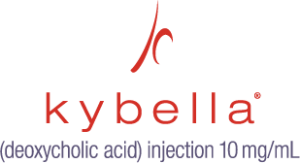 KYBELLA® is the first and only non-surgical treatment approved by the FDA for treating fullness under the chin (double chin).
Kybella is a series of injections that causes the rapid destruction and absorption of fat, leaving a firm jawline without the necessary recovery time of other treatments like chin liposuction or neck lift surgery. A more youthful look and a firmer jawline can be achieved with 4-5 treatments. In most cases, the effects are permanent.
Dr. Steven Holzman will create a personalized treatment plan at your initial consultation. Injections take less than 30 minutes and a topical anesthetic will be applied to minimize discomfort. Repeat injections are spaced 1 month apart, and most patients start to see results after 2-4 treatments. The firming effects of Kybella are permanent barring any serious fluctuations in body weight.
Contact us today for a consultation.