Home/Blog / Dr. Holzman Named One of America's Best Plastic Surgeons In Newsweek
Dr. Holzman Named One of America's Best Plastic Surgeons In Newsweek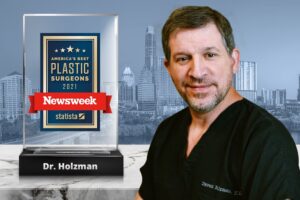 Dr. Steven Holzman—a board-certified plastic surgeon based out of Austin, TX—was recently included in a list of America's Best Plastic Surgeons as compiled by Newsweek. Newsweek—a globally recognized news outlet—compiled the list based on data obtained from a national poll of plastic surgeons and industry professionals. The rankings were divided across four different procedures, with individual lists for breast augmentation, liposuction, facelift, and rhinoplasty. Dr. Holzman was distinguished as one of the best breast augmentation surgeons in America. 
The rankings for each procedure were determined using several metrics: industry professionals around the country were asked to name who they thought were the best providers for each of the four procedures on both a local and national scale. Once a pool of surgeons had been identified through these recommendations, survey respondents were also asked to rank their peers on several quality scales, accounting for:
Quality of surgery preparation
Quality of surgical procedure
Quality of follow-up care 
Quality of surgical outcomes 
These rankings were then used to tally a final score, which determined which surgeons made the lists. Dr. Holzman is passionate about helping his patients achieve their aesthetic goals, and being distinguished by both Newsweek and his peers in the plastic surgery field is incredibly meaningful. Dr. Holzman is committed to providing his patients with superior service and results, and he is constantly seeking to expand his knowledge of the latest clinical innovations. This ensures that he can continue to offer the most advanced treatments and techniques to his patients while further promoting their safety and satisfaction.  
If you are interested in scheduling a consultation with Dr. Holzman, we invite you to contact us today.
Previous Post
Next Post