Home/Blog / Austin Plastic Surgeon Discusses Cosmetic Enhancement Options for Men
Austin Plastic Surgeon Discusses Cosmetic Enhancement Options for Men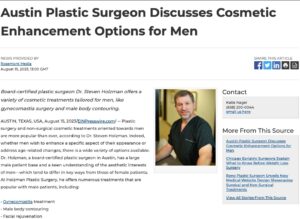 Board-certified plastic surgeon Dr. Steven Holzman offers a variety of cosmetic treatments tailored for men, like gynecomastia surgery and male body contouring.
Austin, TX – Plastic surgery and non-surgical cosmetic treatments oriented towards men are more popular than ever, according to Dr. Steven Holzman. Indeed, whether men wish to enhance a specific aspect of their appearance or address age-related changes, there is a wide variety of options available. Dr. Holzman, a board-certified plastic surgeon in Austin, has a large male patient base and a keen understanding of the aesthetic interests of men—which tend to differ in key ways from those of female patients. At Holzman Plastic Surgery, he offers numerous treatments that are popular with male patients, including:
Gynecomastia treatment
Male body contouring
Facial rejuvenation
Chin and jawline contouring
Injectables and fillers
Skin care
Dr. Holzman performs an array of procedures and treatments that can revitalize a man's appearance, and he is particularly experienced in treating gynecomastia using male breast reduction techniques. Gynecomastia is a condition where excess glandular and/or fatty tissue result in the appearance of male breast growth. Many men who struggle with the condition feel self-conscious about their chest. Dr. Holzman offers male breast reduction to help alleviate those insecurities. While some cases of gynecomastia—especially those that develop during puberty—may resolve naturally, Dr. Holzman notes that surgery is usually the most effective treatment option for adult patients.
Many of Dr. Holzman's male patients also mention concerns relating to excess fat and a loss of definition at different areas of the body. Male body contouring treatments can address regions where stubborn fat and skin have accumulated while adding masculine definition to areas such as the jawline, abdomen, and thighs. Popular treatment options include liposuction, which breaks up and removes targeted pockets of fat, and tummy tuck surgery, which is designed to reduce excess skin in the abdomen and tighten the underlying muscles for a firmer, more toned appearance.
According to Dr. Holzman, facial rejuvenation options for men typically focus on addressing concerns associated with aging, such as loose neck skin, wrinkles, and sagging eyelids. A variety of surgical and non-surgical interventions can be employed, including facelift surgery, blepharoplasty (eyelid surgery), BOTOX® Cosmetic, and dermal fillers. Dr. Holzman has a highly-developed understanding of the aesthetic concerns unique to men, and he aims to help his patients obtain their cosmetic goals while still looking natural.
When looking for a plastic surgeon, Dr. Holzman recommends that male patients seek out a provider who understands their unique needs and preferences. Reading online reviews, exploring before-and-after photo galleries, and scheduling consultations can help determine whether a surgeon is the right fit.
About Steven Holzman, MD, FACS
Dr. Steven Holzman is a board-certified plastic surgeon operating in Austin. With over 20 years of experience, he has helped countless men achieve their aesthetic goals with procedures tailored specifically to meet their needs. During the consultation process, he takes the time to understand an individual's concerns so that he can recommend the most effective treatment option. Dr. Holzman has won numerous "top doctor" awards, and he is an active member of the Texas Society of Plastic Surgery and the American Society of Plastic Surgeons (ASPS). He is available for interview upon request.
For more information about Dr. Holzman and his practice, please visit austinplasticsurgery.com or facebook.com/DrStevenHolzman.
Holzman Plastic Surgery
6818 Austin Center Blvd #206
Austin, TX 78731
(512) 338-4404
Rosemont Media
(858) 200-0044
www.rosemontmedia.com
Previous Post
Next Post